The Ruler's Back.
Week 3 of Serie A is coming up with some great matches. Last weeks Serie A round saw some excellent games and ilcalcio really made a exuberant and promising comeback. I hope by now, everybody have seen through the myth that Serie A is boring.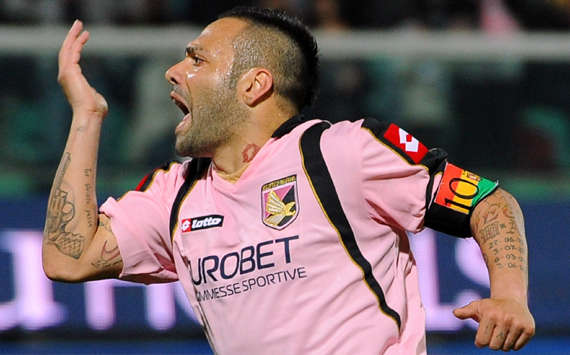 Fabrizio Miccoli. You just have to love a guy like Miccoli. The Palermo captain wears his heart on his sleeve and is the perfect ambassador for Serie A. He had an excellent evening game against Inter and scored two well deserved goals(on of them a beautiful free kick) that led his club to a fantastic 4-3 win.
Up north, in Genua, another player introduced himself to the Italian football audience. Atalantas new boy Maximilliano Moralez scored two goals against Genoa in his Serie A debut and that surely bodes well for the future.
Enough said. Serie A is back with a bang.
*   *   *   *   *
Cagliari - Novara
Cagliari took an impressive 2-1 win in Rome against Roma (yes, Daniele Conti scored as usual) and it gave new coach Massimo Ficcadenti the perfect start, while Novara came back from being 2-0 down to earn a dram away to Chievo in their first Serie A game in 55 years.
Inter - Roma
This game smells anxiety. Both teams lost their opening games and a win would mean much to both teams. Inter coach Gasperini is in desperate need of a win after loosing to Trabzonspor in Champions league and has started his Nerazzurri adventure with 3 straight defeats and if things doesn't change he is soon the be unemployed. Romanisti's patience with Luis Enrique is bigger and he will be given more time but a loss wouldn't be in his favour.
Atalanta - Palermo
Atalanta look to reduce their minus points with Maxi Moralez leading the attack. They host Palermo who confidence will be on top after beating Inter last weekend. Keep an extra eye on Miccoli.
Bologna - Lecce
Two teams that  comes from a defeat. I think Bolognas offensive line with Di Vaio, Aqquafresca and Diamanti will settle this game in favour of the home team. Hopefully allenatore Bisoli gives Gaston Ramirez the chance to shine after missing out on the first game.
Catania - Cesena
Montella and Catania earned a point in their first game but they need to win the home games if they want to avoid relegation. Now taking on Cesena who played a good game against Napoli but didn't get any points. Though, good news for the seahorses is that start Adrian Mutu looked good and surely will be vital for them.
Lazio - Genoa
Lazio earned a well deserved point against Milan with some nice attacking play. Now taking on a Genoa side that no one knows the strength of. Lazio had a Europa league game(2-2 against Vaslui) this week but will surely want to shine at their first home game of the season.
Parma - Chievo
After being trashed by Juventus, Parma will look to bounce back and earn their first points of the season. Chievo had the lead against Novara but in the end only got a point from their first game.
Siena - Juventus
Siena got a point from their first game away to Catania but will face a tough challenge when facing la Vecchia Signora who started their campaign brilliant with a home win to Parma.
Udinese - Fiorentina
Two team that won their opening matches. Udinese beat Lecce away(Di Natale scoring) whereas Fiorentina took an important 2-0 win over Bologna. Di Natale vs Gilardino/Jovetic.
Napoli - Milan
Biggest game of the weekend. The champions travel to Neapels to face Napoli who have started their campaign with a 3-1 win away over Cesena. Also got a draw away to Manchester City in their first Champions league match. After two straight draws(2-2 v Lazio and 2-2 v Barcelona) Milan will do everything to get a good result against their Scudetto contenders.
Tweet